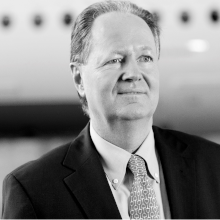 Jaan Albrecht
CEO
Chief Executive Officer of Saudi Arabian Airlines (SAUDIA), Mr. Jaan Albrecht, joined the national carrier of the Kingdom of Saudi Arabia in January 2017.
SAUDIA is currently in its 74th year of operations, with more than 16,000 staff based in the airline's headquarters in Jeddah and worldwide.
Mr. Albrecht has extensive experience in aviation; a former pilot in the initial years of his career, he later transitioned into a diverse range of executive management positions  spanning all aspects of commercial aviation.
Mr. Albrecht has been instrumental in the aviation industry, holding key positions in organizations such as Star Alliance in the capacity as CEO, and was also the former CEO of SunExpress and Austrian Airlines, where he managed the successful turnaround of the company. Furthermore, he spent 28 years at Mexicana Airlines in numerous leadership positions.  
Cumulatively, he has served more than 40 years in the airline industry and has lived in global cities in South America, Europe and the Middle East.    
Mr. Albrecht is a dual national of Germany and Mexico, and speaks German, Spanish and English.